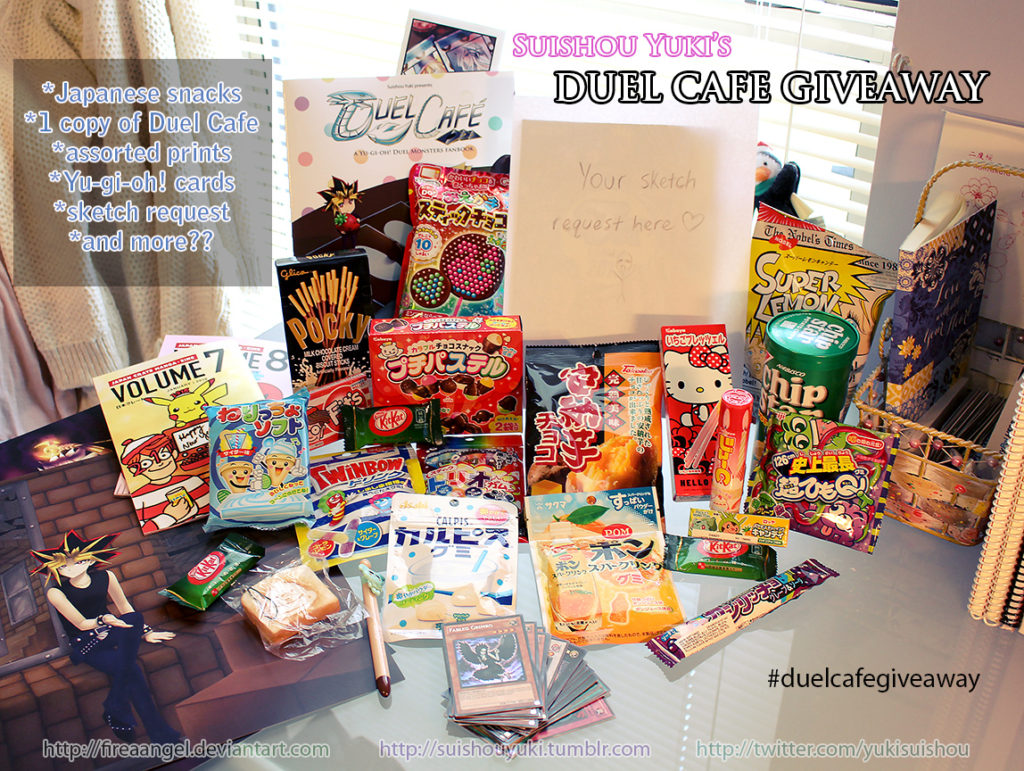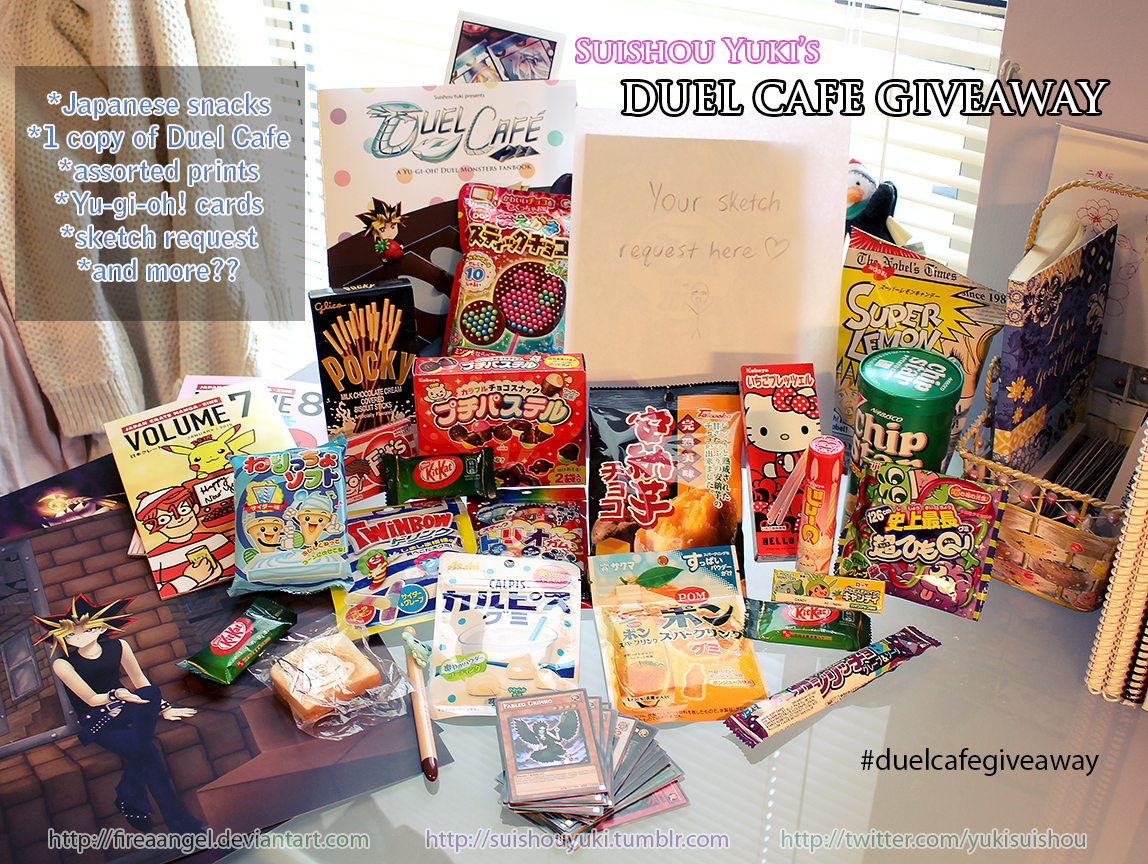 To commemorate the release of my first artbook, I decided to hold a giveaway!!! Full details can be found here on deviantART.
assorted YGO! prints
a bunch of Japanese snacks
YGO! sketch request from me (one character, can be from any YGO! series)
*one copy of Duel Cafe (book only) *please note that this will ship separately, at the same time I ship preorders
YGO! cards (selection from my own collection)
and more!?
Giveaway ends on May 4th, 2016, 11:59 PM CDT. Winner will be announced on May 6th, 2016.
If you'd rather not leave it up to chance, have a look below and then head over to the preorder page and choose the set you want! (But make sure to enter the giveaway too! :D)
---

The preorder period lasts from April 21st – June 10th! Regular orders will open after all preorders have shipped~

As of this writing, there are still some free sketch slots available, so if you preorder soon, you should be able to grab one! x3
Patreon-Exclusive Treats <3
-alternate artwork! Decide which version you like better
-WIPs of artwork that didn't make it into the book!
-PSD files!
-full pose sketches for some pictures
-wallpaper set (for computer and smartphone)
My patrons will get access to all of this and more in the coming weeks!
You can become a Patron here! Also let me know what other kinds of things you'd like to see from me as Patreon rewards <3
Questions
Q. When will I get my order?
Preordered items will not ship until after the preorder period closes (6/10). Don't worry if Storenvy sends you an email about this; your order will be shipped out shortly after June 10th. If you'd like to stay up to date, please follow me on social media, as I will give updates on the status of packages there.
Q. What if I miss preorders? How long do I have to wait for regular orders to open?
Regular orders will open after all preorders have been shipped.
Q. Will you be selling the preorder extras (stickers, etc.) separately as well?
The sticker sheets and limited-edition print (available in Set A and Set B) are available only as long as supplies last and will not be reprinted or sold separately.
Charms will be not be available separately until August 2016.
Q. Can I order other things in your store at the same time?
Yes! Keep in mind that if you order other items along with your preorder (such as stickers or prints), they will ship when your preordered item ships, in order to save shipping costs.
Q. Will you be selling copies at conventions?
Q. Can I pick up my order at a convention? (REGULAR ORDERS ONLY)
Yes! I will be selling the book (by itself) at conventions as well (if I have a confirmed table).
Yes, you can pick up your order at a convention! Check the list of conventions I will be attending, and if you will be going to the same one, you can let me know in the note to seller comment box.
If you have any questions, please let me know! Thank you so much for your patience and support, everyone! ;w;