May 1
Fukuoka
Class was difficult today for several reasons:
Because it's Golden Week, long-term students were on break and the remaining students had to get shuffled into makeshift classes for the two days that the school was open.
This means that students of different levels might end up in the same class. This class had two High Beginners, Two Low-Intermediates (including me), and one Advanced (at least, he said he was advanced).
The Advanced student acted immaturely and arrogantly the entire class, typing away on his laptop and sighing at everything. He kept making fun of the very language he's learning, and just in general being flippant about the class because "it wasn't a real class."
The High Beginner student I kept getting paired with barely said anything, leaving me to figure out what to say in conversations. Maybe I just didn't give him enough time, but he didn't seem interested in trying.
Our class covered particles, which was great since I need a lot of practice, and polite conversation, which was extremely difficult, because conversation is my weakest point…
After class, Kendall, her friend, and I headed for lunch at a kaitenzushi place on the fourth floor of Yodobashi Camera.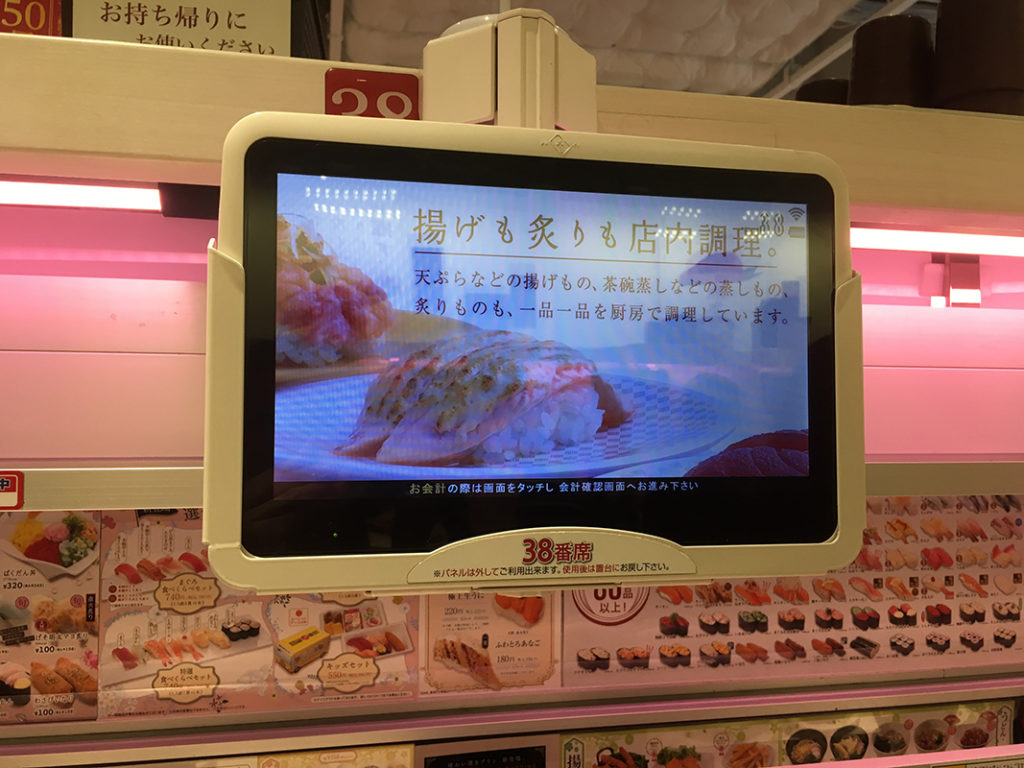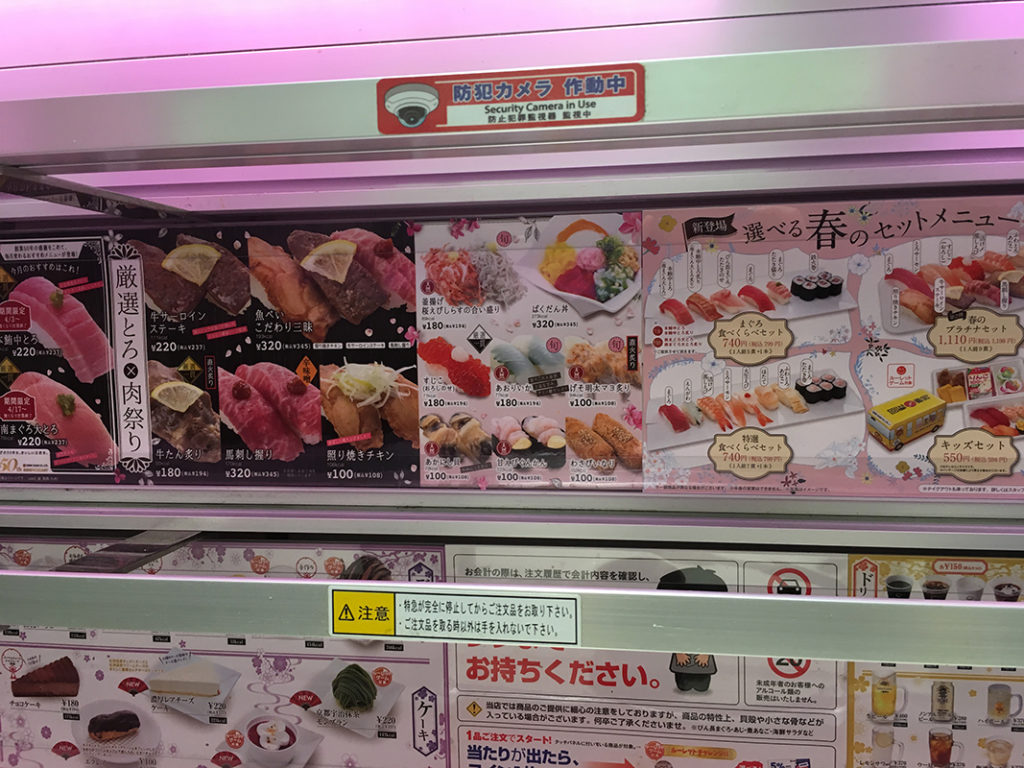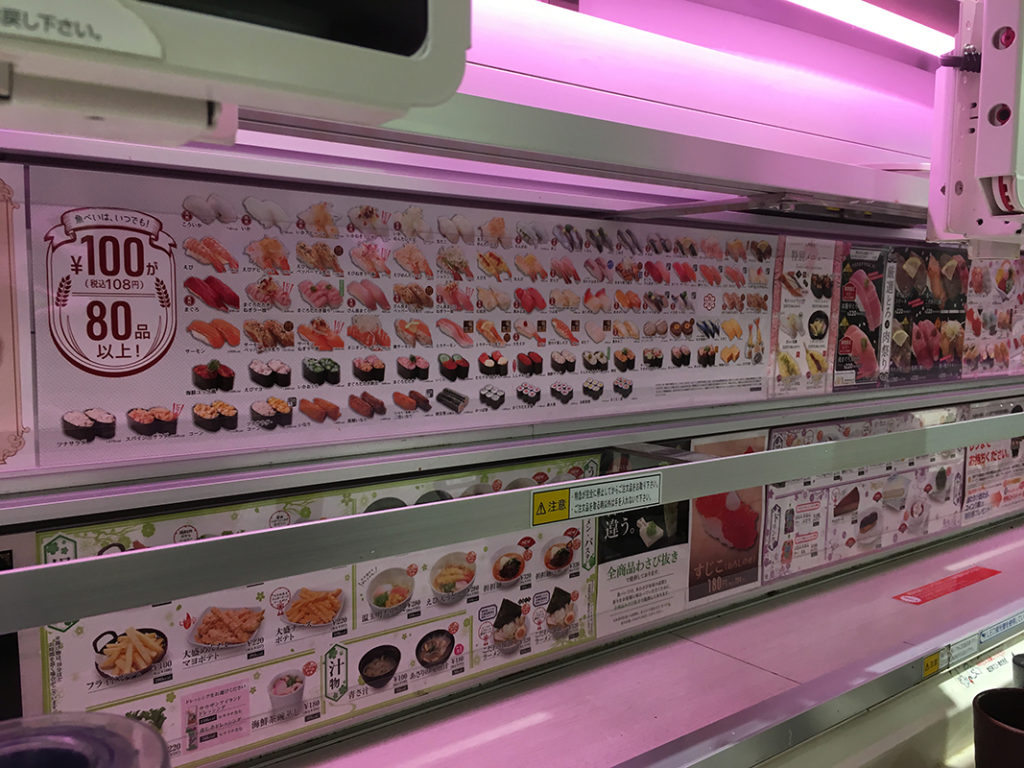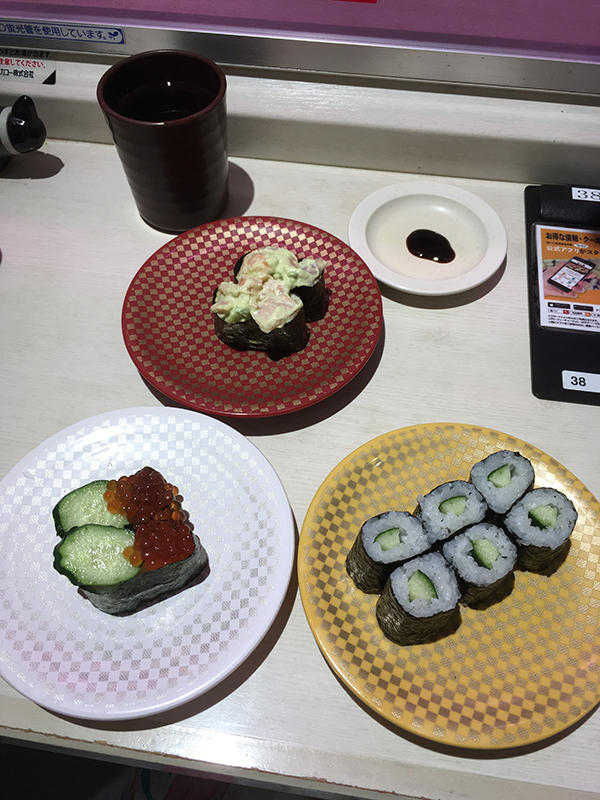 My least favorite was the salmon/avocado sushi. I think there was bone in the salmon, and since it was raw, it was chewy. 😕 The grilled salmon was only very lightly grilled, so it was basically still raw, but that was better. I liked the ikura (salmon roe) with cucumber, kappamaki (cucumber), and tamagoyaki sushi though!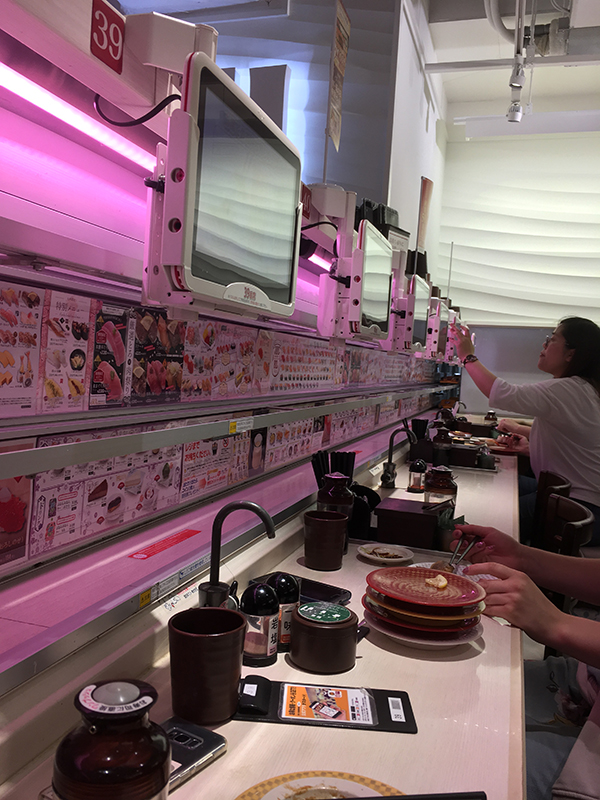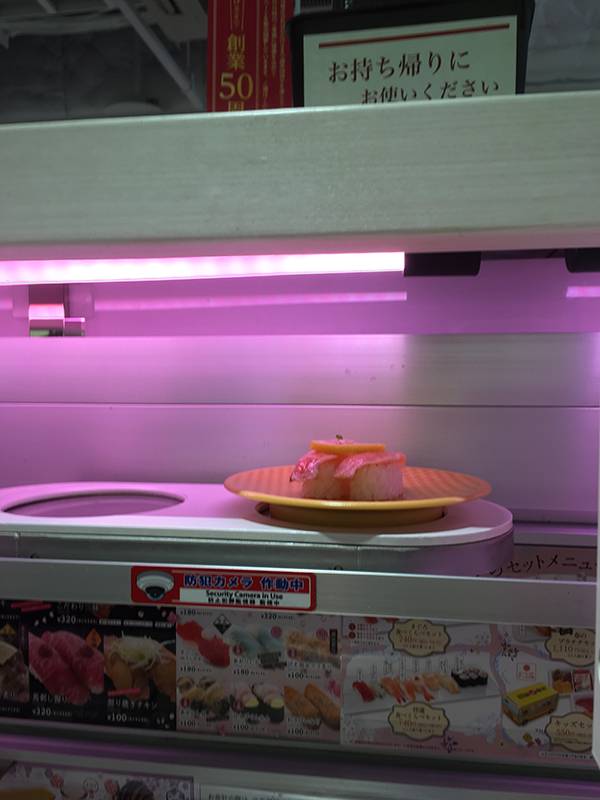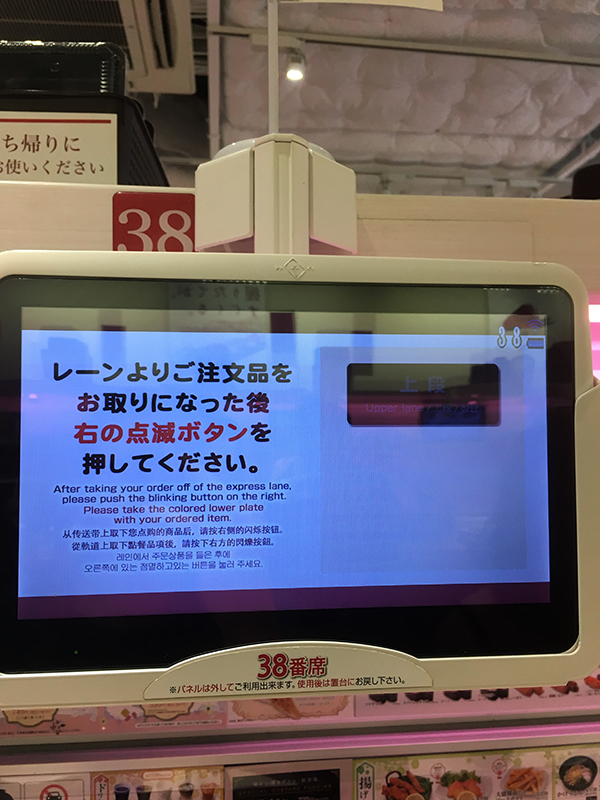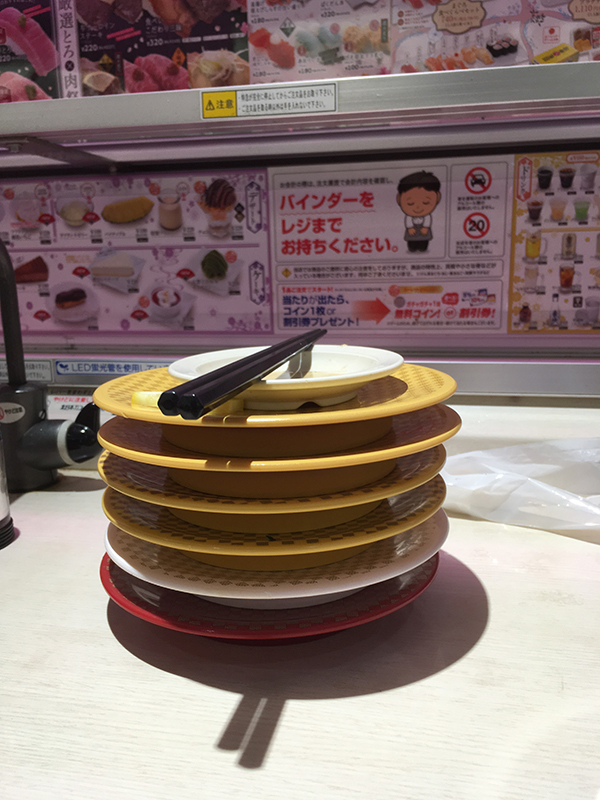 I noticed later that everything but the salmon/avocado sushi was on the kid's menu. Apparently I have childlike tastes? XD In any case, it was pretty delicious!
After our sushi, we set out to find a post office close to Sharely Style so we could figure out the shipping situation. So after arriving at Sasabaru station, where I charged my Suica, we walked to Ijiri Station and located the post office, where we bought boxes to house our items. The clerk asked us (in Japanese) where the packages would be sent, and he gave us the appropriate labels as well as a price chart for international shipping services.
Once we had packed our items, we headed back and filled out the labels. I was shipping omiyage (food and non-food) and my vitamins/supplements. I only had to explain my Santevia Power water stick, which the clerk was fine with once he knew it went in water to make it taste better. But it seemed like he was still looking for something.
When I dug through the box to reveal the box of momiji manjuu, he was like "Ohhh okay" and looked totally happy and fine with everything. Maybe the weight was strange or something? In any case, I was sending the package to Sendai, where I would be staying for the next three months after my brief trip to Korea, to take a bunch of weight out of my backpack and to avoid paying customs fees in Korea for having more than six bottles of supplements!
"Praise God it all went well, so that this week it should arrive at D-House and be waiting for me next Tuesday!"
Then I walked over to the ATM and withdrew ¥47,000 since I was almost out of the initial $500 equivalent I'd had exchanged. Praise the Lord for that timing!
Kendall tried to pay for her box, but since they only accept cash (at least the Ijiri location is this way), she also needed to withdraw money. But both of her cards were rejected, because her bank had put a block on her account despite the fact that she had an active travel notice for Japan on her account. So I paid for her box (thank the Lord for paying blessings forward – she had given me ¥10 at the sushi place so I wouldn't have had to break a bill and get even more change) and then we went to the supermarket so I could buy food.
On the way back, we discussed her bank issue, and I thought, "God, it would be really cool if you could give us some 'Jesus yen' so I could share that story with her."
Back at Sharely Style, I dropped off my things and met her back at the 2nd floor kitchen where she was preparing food for dinner, bringing along my salt, pumpkin seeds, olive oil, a bag of salad (which we didn't use because she had a whole head of cabbage) and a side dish of burdock root and carrot. She fixed potato wedges with garlic, chives, and seasonings like fenugreek, as well as cabbage with miso and sesame seeds. Altogether, it was quite delicious!
After dinner, I went to her room to help her pack, because she was leaving on Thursday. After having her pick out what she was going to wear for the next two days, I started rolling clothes and fitting them in her suitcase. Low and behold, a ¥1 coin appeared, which is basically the equivalent of a penny. A Jesus penny. Or in this case, a Jesus yen! (Thank you Lord)
So I got to share my family's story of "Jesus money" and how whenever we are stressed, worried, or concerned about things, (or even sometimes before we are about to go through a trial), God puts change in our path that we suddenly see. It serves as a reminder, a sign to us that God is taking care of us and that he cares about us. He has the situation totally under control, whether we feel that way or not.
About a minute of packing and sorting later, she suddenly turned to me and brandished a shiny ¥500 coin. "I'm rich!!" she proclaimed, following with saying that now she had a little over ¥700, which would be enough to buy some snacks, so she knew she wouldn't starve. How awesome God is. I smiled and told her, "See? God takes care of you."
"Yes, he really does," she replied.